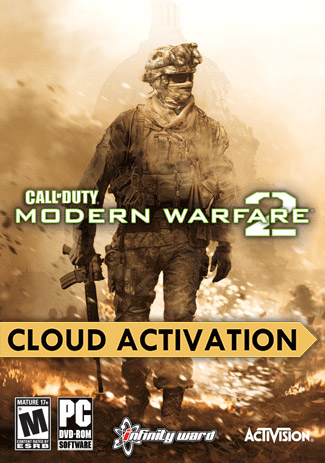 Call of Duty: Modern Warfare 2 (Cloud Activation/DE)
How does the Cloud Activation work?
A key/code is not necessary for the Cloud Activation, we will send you a unique activation link. Click the link in the delivery mail and follow the instructions, your game will be activated automatically on your steam account in seconds.
Why are the games activated automatically?
Automatic activation ensures that your key is valid and has been activated on your account seamlessly. With this functionality our customers are able to activate CD-Keys in a matter of seconds.
I am using the Steam Guard service. How should I deal with that?
If you have your Steam Guard enabled, you will be asked to type in the code sent to you by Steam via email or mobile app.
Is the Cloud Activation safe?
We will not save your personal data nor forward your personal data to a third party for advertising purposes. We strongly recommend that you active the Steam Guard Service to protect your account.
---
Buy Call of Duty: Modern Warfare 2 Game Key
Buy Call of Duty: Modern Warfare 2 game code and get your key for Steam activation within minutes via email! Use the key to access your highspeed download of your received game. Don't miss out this offer.
---
About This Game
The most-anticipated game of the year and the sequel to the best-selling first-person action game of all time, Modern Warfare 2 continues the gripping and heart-racing action as players face off against a new threat dedicated to bringing the world to the brink of collapse.
Call of Duty®: Modern Warfare 2 features for the first time in video games, the musical soundtrack of legendary Academy Award®, Golden Globe® Award, Grammy® Award and Tony winning composer Hans Zimmer. The title picks up immediately following the historic events of Call of Duty® 4: Modern Warfare®, the blockbuster title that earned worldwide critical acclaim, including:
"Most Played Online Video Game" in history, 2009 Guinness World Records
More than 50 Game of the Year awards, including the Console Game of the Year and Overall Game of the Year, 2007, from the Academy of Interactive Arts & Sciences®
SPECIAL OPS CO-OPERATIVE
An entirely new gameplay mode which supports 2-player co-operative play online that is unique from the single player story campaign.
Special Ops pits players into a gauntlet of time-trial and objective-based missions.
Rank-up as players unlock new Special Ops missions, each more difficult.
Missions include highlights from the single player campaign, fan favorites from Call of Duty 4: Modern Warfare and all new, exclusive missions.
MULTIPLAYER REINVENTED
Setting a new bar for online multiplayer, Modern Warfare 2 multiplayer delivers new capabilities, customization, gamestates and modes, including: Create-a-Class Evolved
Secondary Weapons - Machine Pistols, Shotguns, Handguns, Launchers
Riot Shields
Equipment - Throwing Knives, Blast Shield, Tactical Insertion
Perk Upgrades
Bling (Dual Attachments)
Customizable Killstreaks - AC130, Sentry Gun, Predator Missile, Counter-UAV, Care Package
Accolades (Post match reports)
---
System Requirements
Windows
MINIMUM:
OS: Microsoft Windows XP or Windows Vista (Windows 95/98/ME/2000 are unsupported)
Processor: Intel Pentium 4 3.2 GHz or AMD Athlon 64 3200+ processor or better supported
Memory: 1 GB RAM
Graphics: 256 MB NVIDIA GeForce 6600GT or better or ATI Radeon 1600XT or better
DirectX®: Microsoft DirectX(R) 9.0c
Hard Drive: 12GB of free hard drive space
Sound: 100% DirectX 9.0c compatible sound card
Mac OS X
MINIMUM:
Operating System: 10.9.5 (Mavericks), 10.10 (Yosemite), 10.11.6 (El Capitan), 10.12 (Sierra)
CPU Processor: Intel i3 (Dual-Core)
CPU Speed: 2.2GHz
Memory: 4 GB RAM
Hard Disk Space: 13 GB
Video Card (ATI): Radeon HD 4850
Video Card (NVidia): Geforce 640M
Video Card (Intel): Iris
Video Memory (VRam): 512 MB